In Madrid, Iveco spectacularly introduced its new heavy-duty S-Way truck. This novelty has been developed to provide customers with a complete package, not just products, but also driver-focused services, with sustainability and high level of connectivity.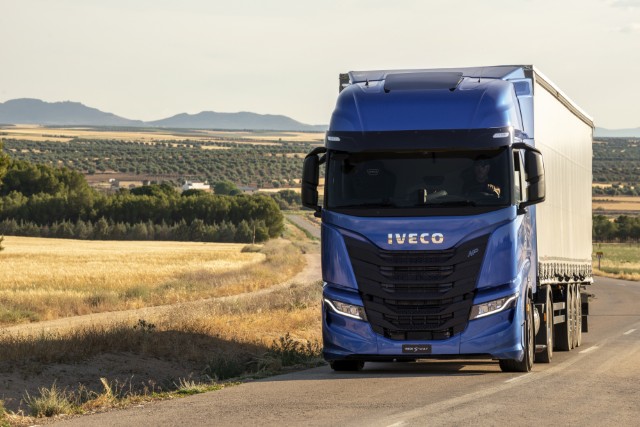 At the global convention, held at the IFEMA exhibition center in Madrid, organized for Iveco distributors, traders, customers and the media, Iveco's global partners in this project included Amazon, Shell and Microsoft.
In order to face sharp competition, Iveco S-Way brings all the knowledge and experiences of previous generations, and some innovations adapted to the needs of the users, with a clear goal of reducing the total cost of ownership (TCO).
With the truck, as a product, the offer will be a new business model that covers the vehicle's cycle and helps customers meet customer requirements.
Already at first glance the Iveco S-Way stands out with a new cab design, both from the outside and from the inside. There is now a new roof, a new radiator grille, a new front bumper, new side panels, and an aerodynamic package (aero kit) with rubber extensions that ease the air flow. Iveco claims that aerodynamics is improved by 12%, which reflects a reduction in fuel consumption to 4%.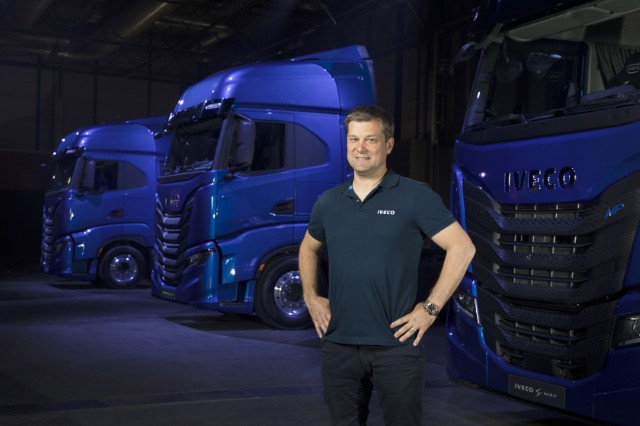 When constructing the cab, it was considered to be achieving production savings, but not at the expense of safety and quality, and reinforced structures (in accordance with ECE R29.03), not only raise the level of safety, but also enable a better position of the driver in the cabin, which ensures better visibility and transparency in all conditions. In Ivec, in particular, they emphasize that the door construction is completely new and provides an extremely high level of safety and functionality.
The interior of the cabin is spacious and well-used. The floor is flat and the inner height is 2,150 mm. The capacity of the internal storage space has increased, so the capacity of the cabinets located above the windshield is 270 liters.
Great attention is paid to ergonomic solutions, so all controls are placed at your fingertips, and the central console is turned to the driver. There are many features at the steering wheel, and the center console has a seven-inch display that allows access to the new infotainment system. Also, there is Bluetooth for hands-free and audio streaming, DAB radio, voice recognition and navigation system, as well as numerous other hardware and software enhancements. In addition, there are also a number of new services that will help with (predictive) maintenance and additional reduction in operating costs.
For example, a new system was created, actually a set of solutions, called MyIVECO. This system connects, collects, processes and exchanges data in real time, and uses a service platform developed in cooperation with Microsoft, which ensures secure data storage, management, and many additional services that will be available on mobile devices or on computers.
For testing, used engines have been tested for 9.11 and 13 liter diesel engines and a power range of 330 to 570 hp, as well as Natural Power (LNG) engines of 9 and 13 liters with a power of 270 to 460 hp. For power transfer, as in Stralis, a proven ZF automatic transmission is used, whose commands (switches: D, N and R) are located on the central console.
Logistic operators will be particularly pleased because Iveco S-Way Natural Power is currently the only LNG truck, which offers 460 hp with a range of up to 1,600 km. In this way, it is possible to take full advantage of the benefits of using natural gas (methane), which creates less noise compared to diesel fuel, and in combustion products 99% less particles and 90% less NOx, and using biomethane, CO2 emissions are lower for to 95%.
In addition to all this, Iveco represents two concept trucks Iveco FIT CAB and Magirus, which are addressed to special customers.
Iveco FIT CAB brings the driver and his fitness needs to the forefront. The cabin interior is decorated as a special exercise room, so the truck becomes a kind of fitness program for the driver.
Iveco Magirus, recognizes the rich heritage of the brand, with an innovative approach and a classic two-color Magirus brand from Ulm (founded by Conrad Dietrich Magirus 1864).
Iveco S-Way is assembled at Iveco's factory in Madrid, while cabins are being manufactured in Valladolid, 200 km north of Madrid, and the first samples will be available in the market this autumn